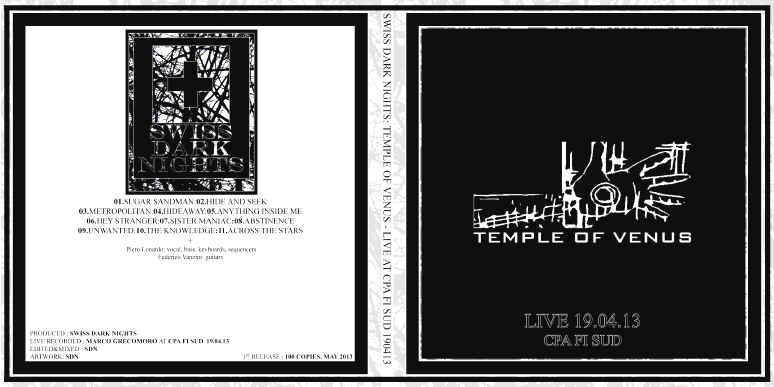 LIVE CPA FI-SUD - NEW CD OUT NOW !
The June 2013 issue from SWISS DARK NIGHTS !
11 tracks recorded live on april 2013 @ CPA FIrenze Sud including tracks from MESSIAH COMPLEX and more, Available ONLY @ SWISS DARK NIGHTS on BANDCAMP and at our gigs
CLICK ON THE COVER AND GO STRAIGHT TO OUR SHOP:
CLICK HERE AND DISCOVER MORE ABOUT LIVE CPA FI-SUD:
MESSIAH COMPLEX
9 tracks deluxe CD w/ double-sided color poster, available on iTunes TM and on all the major digital download partners.
Buy MESSIAH COMPLEX and all the other CDs and Merchandise by clicking HERE
MESSIAH COMPLEX Is now distributed by FINAL MUZIK and is also available in those selected shops:
UK : SISTER RAY in LONDON (Soho) and AVALANCHE in EDINBURGH
ITALY : SEMM MUSIC STORE in BOLOGNA
CLICK ON THE COVER AND GO STRAIGHT TO OUR SHOP:
CLICK HERE AND DISCOVER MORE ABOUT MESSIAH COMPLEX:
| | |
| --- | --- |
| | Others Temple of Venus CDs |
POSEURS (PROMO 2004)

(CD-R 8 Tracks - 2004)

HIDEAWAY - FIRE IN MY HEART - TELL ME EVERYTHING - UNWANTED - YOUR NEW TOY - DON'T BIND UP MY TIME - #26 - WELCOME TO MY MADNESS

ENDLESS?

(CD 14 Tracks - 2003)

ABSTINENCE - WASTELANDS - SILENT - BEFORE - SETTLE ME - THE KNOWLEDGE - THAT TRAP OF YOURS - AFTER - IN MY ARMS - SISTER MANIAC - NOBODY'S PAWN - COULD I LIE ? - ALL AROUND - PASSION ME

18th May 1980

(TOAST RECORDS - CD 5 Tracks - 1999)

L.E.D. - RED - I AM LOOKIN' - I WANT MORE - BLACKHEART

ZIG'D'BOMB

(CD 5 Tracks - 1997)

" I " - SUNDAY AFTERNOON - STRAY TOASTERS - THIS MEANS NOT ME - THE WARLOCK

CD Compilations with Temple of Venus
UNITED FORCES OF PHOENIX

(VVAA. NOMADISM RECORDS Box with 3 CD - 2006)

Cofanetto lusso con 3 CD + booklet contenente 3 nostri pezzi: HIDEAWAY, UNWANTED e SETTLE ME

UNITED FORCES OF PHOENIX VOL.2

(VVAA. NOMADISM RECORDS Box with 5 CD - 2007)

Cofanetto lusso con 5 CD contenente 1 nostro pezzo: THE KNOWLEDGE

THE HOLY HOUR COMPILATION vol.1

(VVAA. - 2007)

CD compilation di 13 pezzi che apre con la nostra TELL ME EVERYTHING
| | |
| --- | --- |
| | Temple of Venus CD-Rs e DVD-R |
DEMOS 1989-1994

(CD-R 14 Tracks - 2005)

originally recorded between 1989 and 1994

SANCTUARY - NOWHERE LAND - A BRAVE ACT OF LOVE - I WAS A BOY - L'ULTIMA ECO - GONE AWAY - WE KNEW MORE - METAMORPHOSIS - WINDS OF WAR - LANCELOT - THIS MEANS NOT ME (demo version) - SUMMER - ONCE - ASHAMED

HUMAN SPLEEN

(CD-R 4 Tracks + Bonus - 2010)

originally recorded in 1986

LIBERATION - SPLEEN - MIDNIGHT SHADOWS - LIKE A MOTH

+ Bonus tracks live 1987: ICARUS - UOMINI EROI - THE END OF THE DAYS - I WAS A BOY - L'ULTIMA ECO

ADVENTURES INTO THE LAND OF THE LIGHT

(CD-R 11 Tracks - 2010)

originally recorded in 1985

THE WILD RIVER SIDE - NIGHTLIFE - VICTIM OF SILENCE - OVER THE RAINBOW - MONUMENTO - POISON RAIN (early version) - DORIAN GRAY - NIGHTLIFE (early version) - POISON RAIN - ANXIOUS DAYS - LA NUIT

SCANDELLARA 2004

(DVD-R 45 min. - 2005)

HIDEAWAY - UNWANTED - NOBODY'S PAWN - BEFORE - SETTLE ME WELCOME TO MY MADNESS - DON'T BIND UP MY TIME - TELL ME EVERYTHING