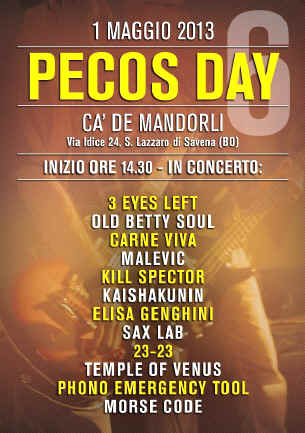 MESSIAH COMPLEX - NEW CD OUT NOW !
Click on the image to discover more
NEXT GIGS:
01-May-2013 6° PECOS DAY @ CA' DE MANDORLI - S.Lazzaro di Savena (BO)
LATEST NEWS:
19-Apr-2013 LIVE @ CPA FI-SUD - via Villamagna 27/A 50126, FIRENZE
in partnership with TANZ MIT WALZ
08-Apr-2013 NEW Custom video for HEY STRANGER !
Enjoy the new video for HEY STRANGER with BB BURLESQUE HERE
23-Mar-2013 LIVE @ MATTATOIO CULTURE CLUB - via Rodolfo Pio 4, CARPI (MO)
in partnership with GROTESQUE MODENA
22-Feb-2013 Live @ VAG61 - via Paolo Fabbri 110 BOLOGNA
In partnership with SOUNDS BEHIND THE CORNER and MOB MUSICA. read the live review in the MEDIA page
10-Feb-2013 NEW "BLOG" Section
Now you can now more about our thoughts and projects in our new BLOG section
01-Feb-2013 I TEMPLE OF VENUS a DEMO !
DEMO, il programma di musica indipendente di RAI RADIO 1 condotto dal grande MICHAEL PERGOLANI con RENATO MARENGO. per la prima volta i TEMPLE OF VENUS con HEY STRANGER !
Contacts: booking [at] templeofvenus.it - piero.x [at] tiscali.it
Since 1999 - V.6.1 September 2012